Italian Steakhouse & Restaurant in North Myrtle Beach, SC
Benny's Trattoria is North Myrtle Beach's best-kept secret! Ask any local! We combine the authenticity of generations of family recipes with the atmosphere of a traditional Italian 'Ristorante' to bring you a dining experience that you'll treasure for years to come. Family owned and operated among Italian restaurants in the area since 1996, our goal is to provide quality southern and northern Italian food with attention to detail along with the most personable service on the Grand Strand. Another feature you will enjoy is our LED-lit menus! Our dinner menus and guest check booklets all feature LED lighting, not only for easy lighting but also for an elegant experience!
The Finest Northern Italian Cuisine & Southern Italian Food
From your first date to your next family gathering, Benny's Trattoria welcomes diners looking to enjoy the very best northern and southern Italian cuisine North Myrtle Beach, SC has to offer! We're home to mouth-watering, authentic Italian dishes and some of the best drink pairings around. Whether you're craving chicken carbonara and a glass of merlot for dinner, we've got a table waiting for you. We take pride in being the destination dining experience for both southern and northern Italian Cuisine in North Myrtle Beach, SC!
Our Italian steakhouse is open for dinner, with an extensive menu of northern and southern Italian food that's sure to intrigue your taste buds. From pasta dishes to meat entrees, an extensive dessert selection to the finest assortment of Italian wine in North Myrtle Beach, Little River, Wampee, Atlantic Beach, and Horry County, SC, we go out of our way to provide a full range of flavors to our guests. With a full bar and outdoor seating also available, we aim to cultivate an atmosphere you love to spend time in. We want to be your favorite among Italian restaurants and go out of our way to make sure every dining experience you have with us is one to remember. Take a look at just a few more of the reasons people choose us first when they're in the mood for northern and southern Italian cuisine in North Myrtle Beach, SC:
We feature a chalkboard menu that changes daily—stop in and see what the day's fresh-made specials are!
Our classic, homestyle restaurant comfortably seats 75, for an intimate dining experience that's great for couples and groups of all sizes.
We have a menu that's designed to provide you with a delicious meal in less than 30 minutes. It's perfect for business professionals and other time-conscious guests!
Our Italian restaurant in North Myrtle Beach, SC is a proud member of the local Chamber of Commerce.
Our menu has gluten-free menu options, as well as entrees for other diet-restricted diners.
Friends and Family
You are invited to sign up for our "Friends and Family" monthly email newsletter. It is a great way to stay in touch with all the happenings at Benny's Trattoria.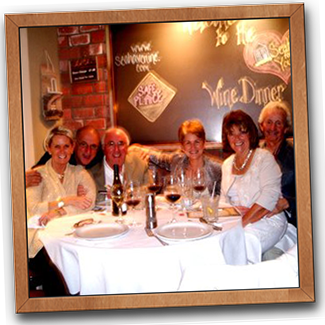 Dine with Us Today!
For a great meal of authentic southern and northern Italian food, at a great price, in a great atmosphere, there's no place choice among Italian restaurants in the area than Benny's Trattoria! We welcome you for dinner and dessert Monday through Saturday.
Contact Us